11 Great Reasons Why You Should Visit Wexford
C
ounty Wexford is in South East Ireland. It is a popular holiday destination for Dublin people as it takes only one hour to reach north Wexford on the M11 motorway. Wexford also boasts the name
The Sunny South East
because it has the most sunshine hours, and the least rain in Ireland and is the perfect place to get your summer tan. With lots of attractions, activities and events taking place throughout the year Wexford has plenty to offer to everyone.
Wexford is famous for its golden beaches that stretch for miles along a coast that few counties in Ireland can compare. Almost the entire shoreline of Wexford is a series of long sandy strands. The waters around the coast are generally calm and safe for swimmers compared to the Irish west coast. There are five Blue Flag beaches and many smaller, less crowded and fantastic ones. The most famous beach of all is Curracloe where they filmed D-Day landings for Saving Private Ryan. In northern Wexford, Ballymoney and Courtown also have stunning beaches, while Rosslare and Duncannon in southern Wexford are worth a visit too.
For a full list of beaches visit discoverireland.ie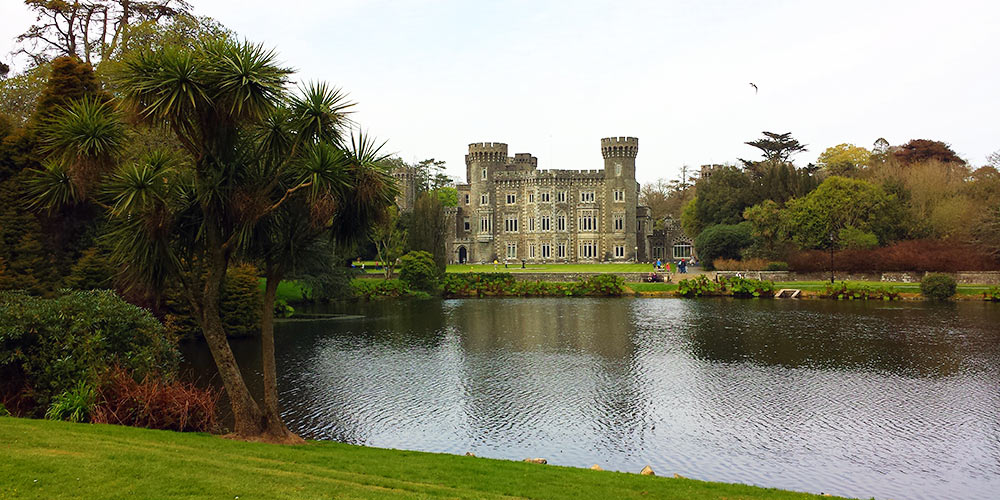 Garden enthusiasts and those who enjoy discovering beautiful gardens will be delighted with the Wexford Garden Trail. It's a collection of over 20 stunning gardens in County Wexford. The most notable and a must-visit is Johnstown Castle & Gardens located close to Wexford Town. Marlfield House is part of the Wexford Garden Trail too while Kilmokea Gardens and Wells House Gardens also have beautiful garden trails well worth a visit.
For more information visit wexfordgardentrail.com
Enniscorthy Castle pictured above houses the Wexford County Museum. It is an imposing Norman fortress located in the centre of town and is one of the most visited castles in Wexford. Johnstown Castle is a stunning castle with beautiful gardens on the outskirts of Wexford and is a national heritage bequeathed to the Irish Nation in 1945. All that remains of Ferns Castle in the town of Ferns is about half of what they originally built, but it is certainly a place well worth visiting. Ballyhack Castle is not to be missed when exploring the west of Wexford. It a impressive large tower house built in a strategic position on a steep slope overlooking Waterford Estuary and dates back to 1205.
Hook Lighthouse is on the Hook Peninsula and is the oldest operational lighthouse in the world. Lonely Planet described it as "little plump lighthouse, the grand-daddy of all lighthouses" and voted it number one lighthouse on earth. Hook Lighthouse offers guided tours of the lighthouse tower all year round, and is this is one of the top things to do in Wexford. Climb the 115 steps to the spectacular view from the balcony above, or enjoy one of many festivals taking place throughout the year.
For more information visit hooklightheritage.ie
5. Saltee Islands (and Puffins)
The Saltee Islands are a haven for sea birds, and boast an impressive array from puffins and manx shearwaters to gannets and gulls. The islands comprising the Great and Little Saltee are approximately five kilometers off the coast of Kilmore Quay in southern Wexford. They are in private ownership but day visits are possible on Great Saltee between 11:00am and 4:30pm. Tours are available from Kilmore Quay.
For more information visit salteeislands.info and visitkilmorequay.com
The Dunbrody Famine Ship is one of the premier tourist attractions in the South East of Ireland. An authentic reproduction of an 1840's emigrant vessel provides world-class interpretations of the famine emigrant experience. The guided tours, costumed performers and themed exhibits are of the highest quality. The Dunbrody provides a unique insight into the bravery and fortitude with which Irish people faced up to a desperate situation.
For more information visit dunbrody.com.
When John F. Kennedy visited New Ross in Wexford he said, "I want to express my pleasure at being back from whence I came". Kennedy Homestead is the birthplace of President John F. Kennedy's great-grandfather Patrick Kennedy. It celebrates the story of five generations of the Kennedy dynasty while still in the hands of his descendants. John F. Kennedy Arboretum, which is also a part of Wexford Garden Trail, is also worth a visit.
For more information visit kennedyhomestead.ie and heritageireland.ie
8. Irish National Heritage Park
The National Heritage Park in Ferrycarrig, County Wexford covers 35 acres and takes visitors through 9,000 years of Irish history. A trail featuring prehistoric campsites, ring forts, fulacht fiadh burned mounds, crannogs, Viking houses and other historic landmarks awaits discovery. There are settlements representative of all the different periods of Ireland's cultural history, from the earliest settlements in Ireland up to the arrival of the Normans in the 12th Century.
A new 180m trail takes visitors deep into wet woodlands, and winds between ancient trees and pools of water to display at first-hand what Ireland must have looked like to our stone age ancestors. Few people are ever able to explore a swamp-woodland such as this. It boasts thickets of alder and oak, mosses and lichens, and teems with bird life and insects.
For more information visit inhp.com
9. Opera (and other fantastic festivals)
Wexford Festival Opera is one of the leading opera festivals in the world, and each year attracts audiences from home and abroad who come to experience this unique celebration of this dramatic art. Wexford Festival Opera prides itself in giving new life to unjustly neglected works, and introducing artists and audiences to forgotten masterpieces. Marlfield House offers a special package including transfers to the events – please contact for more details.
Wexford Fringe Festival runs parallel with the Opera Festival and offers an eclectic mix of more than 300 events over 17 days. These include cabaret, comedy, circus, dance, film, theatre, puppetry, music, and the visual arts, many of which are free to attend.
For more information about Opera Festival visit wexfordopera.com and for Frindge Festival visit wexfordfrindge.ie. Check out visitwexford.ie for more events in Wexford.
Loftus Hall is a large mansion house on the Hook peninsula. It has the reputation of being haunted by the devil and by the ghost of a young woman. Take a tour of this abandoned haunted house with a dark and troubled history. Let our tour guides take you through the ground floor of Loftus Hall on an interactive tour.
For more information visit loftushall.ie
Wexford is the home of Irish strawberries. You will certainly notice this when you drive in Wexford during the summer months as they are for sale on every roadside. For the juiciest, tastiest Wexford Strawberries you should take a trip to the family run Greens Berry Farm (outside Courtown and Gorey) and for the ultimate strawberry experience, visit Enniscorthy in June when the annual Strawberry Festival takes place.
For more information visit greensberryfarm.ie and strawberryfest.ie
Marlfield House Hotel is located in Gorey, north Wexford and is a perfect place to stay if you wish to explore the south east of Ireland, including counties of Wexford, Wicklow, Waterford, Carlow and Kilkenny.
For more information about Marlfield House click here or go to bookings page to check availability for your next trip to The Sunny South East.