Winter Festive Dining Offers
The Duck Terrace Restaurant
The Conservatory Restaurant
Christmas and Festive offers at Marlfield House and The Duck
Choose from The Duck Restaurant, The Conservatory Restaurant or the Print Suite for private dining at Marlfield House, 2020 Hotel of the Year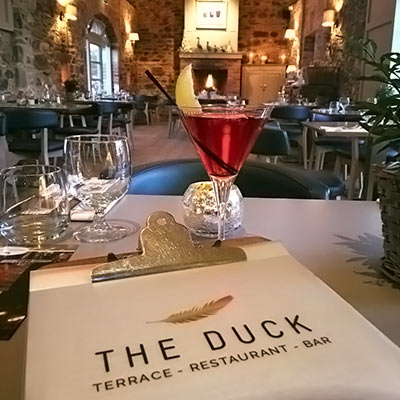 The Duck Restaurant
★ 2019 Restaurant of the Year
The Duck's uniquely warm and welcoming atmosphere with its blazing fire, delicious food, great cocktails and friendly service make it is the perfect venue for Christmas celebrations with colleagues, friends and family.
This December we are offering a 3 course festive Dinner Menu with cocktail on arrival for €50 p/p for any party size. And for lunch a 3 course menu for €35 pp. Groups for 10+ in December are required to choose from the group menu.
View Festive Group Lunch Menu >
View Festive Group Dinner Menu >
For more information and bookings please call Greg on 053 942 1124 or email greg@marlfieldhouse.ie
The Conservatory Restaurant
★ 2018 Fine Dining Restaurant of the Year
Choose the Magic of Marlfield this Christmas. Enjoy opulent surroundings, delicious three course festive dinner and cocktail on arrival, followed by coffee and mince pies by the fire in the Drawing Room. €58 p/p, all party sizes catered for.
View Conservatory Restaurant Festive Menu >
For more information and bookings please contact us on 053 942 1124 or simply email us at info@marlfieldhouse.ie
Private Dining in The Print Suite
We can also offer private dining in the Print Suite, a uniquely charming room providing privacy, delicious food and elegant service! Enjoy a wonderful 5 course menu in this exceptional suite and stay the night in a magnificent state bedrooms @ €260 pp sharing (minimum numbers and terms and conditions apply).
For more information and bookings please contact our sales team on 053 942 1124 or simply email us at info@marlfieldhouse.ie
Festive Afternoon Tea
The elegant and gracious surroundings of Marlfield House lends itself to celebrating with family or friends while enjoying the delicious festive afternoon tea. Allow us to pamper you with crisp white linen, bone china and gleaming silverware in the beautiful surroundings. A choice of teas from around the world, delicious sandwiches and a selection of the lightest pastries and festive mince pies await you.
Afternoon Tea is available 12.30pm to 3.30pm Friday to Sunday and reservations are necessary.
For more information and bookings please contact us on 053 942 1124 or email info@marlfieldhouse.ie
Sandwiches
Honey Glazed Ham with Pear Chutney on Wholegrain Brown Bread
Smoked Salmon with Cucumber and Horseradish Cream on Homemade Brown Soda Bread
Free Range Chicken with Herbs and Aioli on a Toasted Waterford Blaa
Free Range Egg Salad with Rocket on White Bread
Desserts
Homemade Scones dusted with Cinnamon and Sugar served with Butter, Fresh Cream and Marlfield Berry Jam
~~
Vanilla & Yogurt Panna Cotta
Glazed Lemon Tart
Chocolate Opera Cake
Festive Mince Pies
Tea Selection
Black Teas
Black teas contain the highest amount of caffeine but they are also rich in antioxidants.
Assam Dikom FTGFOP, India
Characteristical malty notes of high quality Assam.
Darjeeling, FTGFOP Kalej Valley, India
Typical muscatel flavour. Excellent afternoon tea.
Earl Grey Blue Flower
Classic black tea flavoured with the essence of the bergamot fruit (fruity-citrus aroma).
Lapsang Souchong, China
Intense, rich smoky flavour – a traditional classic for the afternoon.
Decaf Ceylon OP, Sri Lanka
Mild and aromatic taste.
Green & White Teas
The green leaves are roasted or steamed to stop the oxidation. All green teas contain caffeine (less than black tea) and are rich in vitamin C and antioxidants.
Mao Feng, China
Mello, refreshing and subtle with a slight nutty, grassy-fruity note.
Green Spring
Sencha green tea – strawberries and the red currants give a fresh and fruity flavour.
White Grapefruit, China
Wonderful light and fragrant citrus taste (Aloe vera, orange, yellow rose and natural grapefruit aroma).
Herbal Teas
Herbal and Rooibos teas do not contain any caffeine.
Rooibos Nature, South Africa
Made from local bush and contains a lot of minerals and vitamin C. Sweet-earth character.
Peppermint
Contains natural menthol which gives this tea typical freshness.
Camomile
Pure whole camomile blossoms.
Bad Weather, Herbal Mix
The anise-honey flavoured pure herbal tea.
Fruit Teas
Fruity Ginger
Mild, apple/pear-based fruit infusion. Slightly sweet flavours of passion fruit and ginger.
Wild Cherry
Ruby red infusion with the fruity flavour of ripe cherries, hibiscus, apple and hawthorn.
~
Afternoon Tea €27
With a Glass of Prosecco €35
With a Glass of Champagne €42
Glass of Prosecco €9
Glass of Spumante €11
Glass of Champagne €16