A Complete Guide to Wexford Beaches
I
f you are travelling to Wexford you are most likely going to explore the beautiful white sand beaches stretching for miles along the coast that few counties in Ireland can rival. Almost the entire coast of Wexford is a series of long sandy beaches. There are a number of beaches to explore or to get that perfect summer tan – Wexford is famously known as
The Sunny South East
and is blessed with having the most sunshine hours in Ireland. Relative to the west coast of Ireland the waters around the Wexford coast are generally calm and safe for swimmers. Wexford has 5 Blue flag beaches and a plenty of small and less crowded beaches.
Blue Flag Beaches in Wexford
The Blue Flag Beaches must comply with a specific set of criteria relating to water quality, information provision, environmental education, safety and beach management. At beaches the bathing water must be comply with the excellent standard in accordance with the EU Bathing Water Directive.
This beach has been a firm favourite with tourists since the turn of the century, and today is extremely popular with families, walkers, water sports and the sun seekers. The beach is made up of fine sand and has extensive coastal protection works all along the boundary between the dunes/woodland and the beach itself. There is a borough along side it which contains ideal spots for picnics and lovely woodlands for walking. The beach itself is relatively narrow around the main access point but expands in width the further north you travel.
Morriscastle Beach (Kilmuckridge)
Morriscastle beach is located is located about 6.4 kilometres south of Cahore Point and just outside of Kilmuckridge. The beach is a fine sandy beach stretching approximately 3.2 kilometres in length. It is claimed to be the longest beach in Ireland and is known locally as the 'Golden Mile'. The area is important from a nature point of view with a Special Area of Conservation – Kilmuckridge / Tinnaberna Sandhills to the South. The Wexford Coastal Pathway passes through Morriscastle on its 221 kilometre journey. The beach can be reached by a 150 metre walk from the car park onto the strand. The beach is a very popular for bathing with locals and visitors.
Curracloe Beach (White Gap)
Curracloe Beach is a long wide fine stretch of beach and is located just north of Wexford Town and is a regular holder of the Blue Flag Beach status. A nature trail runs through the dunes and continues for 5 km to Raven Point, passing through the beautiful peninsula which constitutes Raven Nature Reserve. Curracloe has 3 main entrances known locally as Ballinsker (Blue Flag Beach), White Gap (Blue Flag Beach) and Culletons Gap (Green Coast Beach Award – see below) running north to south, with White Gap being the largest. This beautiful coastline area is very popular with holiday goers who stay in B&B's locally as well as mobile homes and in the caravan parks. Curracloe Beach is known for its safe swimming conditions and is ranked as the most popular and best beach in Wexford.
Curracloe Beach North (Ballinesker Beach)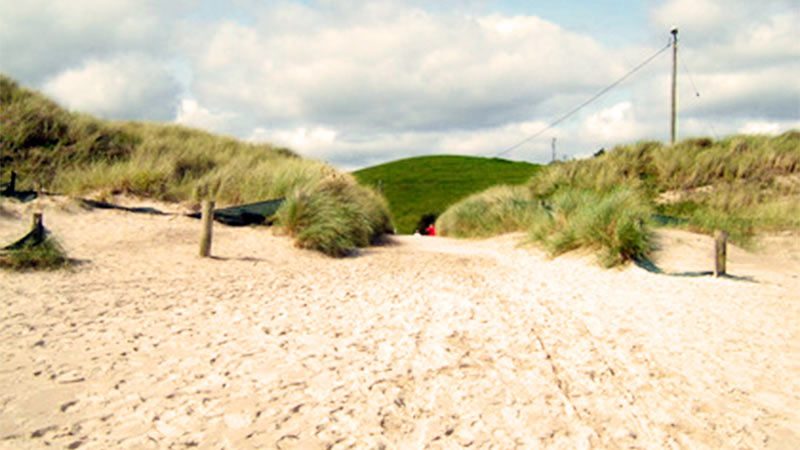 Ballinesker Beach is the northernmost part of Curracloe Beach and is approximately 3km north east of Curracloe Village. It is the most famous beach on Wexford coast as the filming of Saving Private Ryan took place here in 1997. At a cost of more than $12 million, and over 11 weeks, 1,500 people, tonnes of explosives, and thousands of gallons of fake blood transformed a kilometre of the beach into the bloody battlefield. The actual filming took 15 days, after which every trace of the set was removed, and the beach painstakingly restored to its previous state. Director Steven Spielberg and actor Tom Hanks stayed at Marlfield House during the filming.
Rosslare Beach (Rosslare Strand)
Rosslare Beach is located 12 kilometres south east of Wexford town and 4 kilometres north west of Rosslare Europort on the southern edge of Wexford Harbour. The beach itself is comprised of sand and stone running the length of the southern peninsula which protrudes into Wexford Harbour. The main beach is accessed by various walkways and its main access point is from the main car park. The beach is segmented by a series of timber breakwaters which are designed to retain sandy deposits along the beach. Rosslare Beach gives way to a safe, long, golden sand beach for all the family to enjoy a range of activities such as water activities, horse riding, golf, angling and walking.
Green Coast Award Beaches in Wexford
The Green Coast Award recognises beaches for their clean environment, excellent water quality and natural beauty. These beaches may not have the necessary built infrastructure required to meet the criteria set for Blue Flag status however they are exceptional places to visit and enjoy our rich coastal heritage and diversity.
Stunning beach approximately six kilometres north of Courtown in Ballymoney Town. This is a small beach but can be a quiet get-away from the busy North Beach and Clones Strand. It has a shop and toilet at its entrance, a small stream to paddle for the kids although it is not suitable for bathing in; as well as rocks and lovely sand which is ideal for sunbathing.
Follow a footpath from the southern beach over the rocks and you will discover the northern beach. Once there, you will understand its popularity. This beach has a lifeguard station and other amenities including toilets and has also received a water quality award. A further walk north of the beach you will find stunning rocks and tiny bays hiding between them – only remember that get back before the next tide!
This beach has been a favourite spot with tourists for years. A pier at one end, the pebbled beach stretches to rocks at the other. Very popular for boating and other water sports. The beach has an in-shore life boat and a lifeguard station. You can also have a drink here in the pub on the hill overlooking the beautiful coastline. South Beach is accessible by foot – look for a tiny footpath behind the pub.
South Cahore Beach is located around the cliffs of North Beach and can be accessed either by foot via a footpath on top of the cliffs from North Cahore Beach or by car. This beach lacks car park or other amenities and you will need to park on the side of the road; however it is a perfect place to those seeking less crowded place. You can walk to the Old Bawn beach which is only a couple of kilometres south of the Cahore.
Old Bawn Beach (Newtown Beach)
This beach is situated 3 kilometres to the south of Ballygarrett on the coast road. The beach has miles of golden sand and it is possible to walk along this beach to the adjoining beaches of Ballinoulart and Morriscastle or Cahore to the North. This beach is well sheltered by grassy sand dunes which play host to a wide range of wildlife. It is also famous for its fishing. There is an in-shore life boat and a lifeguard nearby at Cahore.
Curracloe Beach South (Culleton's Gap)
The beach at Culleton's Gap is in a section of the sandy Curracloe stretch situated 5 miles north of Wexford Town and facing in an easterly direction over Wexford Bay and the Irish Sea. It is 1 mile from the village of Curracloe. Culletons Gap is the southernmost entrance and is bordered by the Raven Nature Reserve and forestry. The Raven Nature Reserve, the North Slob Land and the Wild Fowl Reserve border the beach to the west.
St. Helen's Bay Beach
St. Helen's Bay is in Kilrane, Rosslare, South of Wexford Town. The beach is a lovely long sweeping sandy beach. It is ideal for swimming, fishing sailing and long leisurely walks and has panoramic views of the South Wexford Coastline.
Ballyhealy Beach
Ballyhealy beach is located near Kilmore in the southern part of County Wexford. This is a sandy beach and is good for surfing because of the onshore breezes.
Grange Beach
Grange Beach is a sandy beach located in Fethard which is in the southern part of County Wexford and runs into Banna Beach at low tide. It does not provide much shelter from the wind and is therefore the ideal spot for water sports such as kite surfing and wind surfing. Access to the beach is along a rough track which may not be suitable for wheelchairs and buggies.
Booley Bay Beach
Booley Bay beach is a very secluded beach on the Duncannon to Hook Head road. Park your car on the side of the road or down the small lane way and walk down the track to the beaches, the beaches is situated in a lovely sheltered bay's with clean golden sand.
Other Fantastic (and less crowded) Beaches in Wexford
Kilpatrick beach is renowned for its very rare sea shells and unusual sea stones and pebbles. The acres of soft sandy dunes are ideal for a picnic. It is not well sign-posted, but it can be found next to Kilmichael Strand.
A long beach located next to Clones Strand. It's most notable feature is the borough which runs alongside it. The borough is made up of mini hills and valleys. This beach is also a very popular spot for fishermen with a lot of good advantage point among the rocks. It is ideal for a family day out.
Castletown Beach (Clones Strand)
A fabulous beach which servers the village of Castletown. There are a lot of holiday homes and caravan parks in the area which increase the popularity of the beach.
This beach is situated half a mile from the Kildermot Crossroads. There is a long lane from the Coastal road to the beach. This lane can be narrow and overgrown in parts, but leads to a lovely unobstructed sandy beach, which is surrounded by caves which are well worth a visit.
Situated north of Courtown you will find Dodds Rocks, a beach named after Captain Dodd. You can access it from Courtown – Ballymoney road. On a good day you can walk to Dodds Rocks from Courtown Beach which makes for a really energising walk. The beach is one of the biggest along the coast and well worth a visit.
Around the rocks from Courtown's South Beach is the long sandy beach of Ardamine. At the curve in the beach, built up sand has created a shallow, stone less sandbank, where the waves break early before reaching the beach – its a great spot for the kids. A place well worth a visit.
Poulshone Beach is hidden between the rocks after Ardamine. There is a lovely cliff top walk here from which visitors can see most of the coast line. It is possible to travel to Roney Point from here and ramblers are asked to be aware of the dangers of getting too close to the cliff's edge.
.
The most famous resident of this beach live on the little island just off Roney Point, a family of seals. While occasionally one of these inhabitants can be seen popping their heads up off Courtown, a trip to Roney Point is essential to be sure to catch a glimpse of them. The beach stretches for approx 1,5km to the Donaghmore in the south where is another entry point; however only a limited number of cars can be parked there.
A hidden gem among Wexford beaches. Although this beach lacks facilities, received no official awards and does not even have a proper car park, it has been rated as the third best beach in Wexford by the travellers on TripAdvisor. If you want to get away from the crowded beaches and enjoy the golden coast in privacy this is the perfect spot. Usually you will only meet a couple of  locals and those who know this secret and fantastic location. It is located couple kilometeres to the north of Morriscastle Beach and to the south of Old Bawn & Cahore Beaches. It is not well signposted and is accessed by a narrow 3 km long country road off the main Courtown to Wexford road (R742)
Carnivan Beach is a long sandy beach with rock pools at low tide in the southern part of County Wexford.
It is a popular surfing spot with a surf school at the beach that provide lessons and equipment hire.
Baginbun Beach is a secluded and sheltered beach located just outside Fethard in the southern part of county Wexford
There is a small car park and the beach is not accessible for wheelchair users.
Dollar Bay and Booley Bay
Another hidden gem (two of them!), Dollar Bay and Booley Bay are located next to each other just south of Duncannon. Both are very small and secluded. They are not signposted. and very few people know about them which makes a perfect spot for a quite barbeque (small BBQ allowed) on the beach with family or friends. To access any of the two beaches you will need to park your car on the main road or in the small lane way and walk down to the beach. Both beaches are lovely sheltered bays with clean sand, nice warm breeze blowing from the sea and very clean water to swim in. The two beaches are great for sunbathing, swimming, body boarding as the waves are small and fishing as large quantities of flatfish, dog fish and bass group here.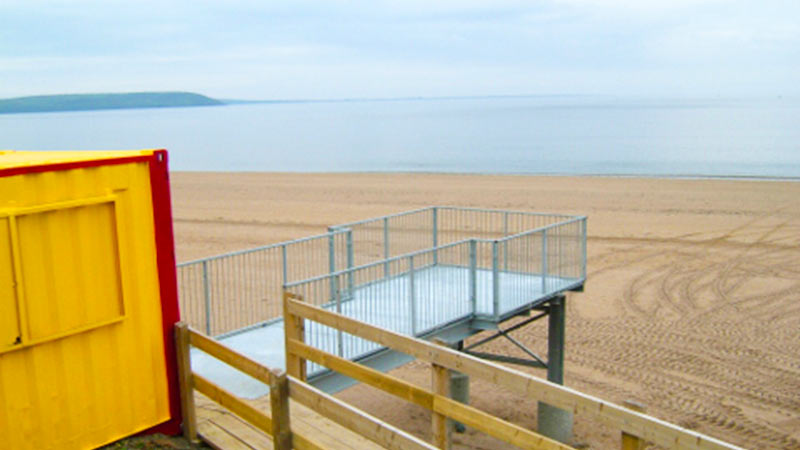 Duncannon Beach is located oin the south west of Wexford county and is close to Waterford town. It is a designated bathing area and is approximately a mile long. There is parking on the waters edge with reserved disabled parking available too. There are also male and female toilets open all year round.