Fine Dining at Marlfield House Restaurant in Gorey, Wexford
The reputation of our Marlfield House Wexford Hotel was built strongly on its fine dining experience and how much of the food used is grown healthily and naturally in the garden. Marlfield House is considered to be one of the finest restaurants in Gorey Wexford, with fresh herbs, vegetables and fruit grown abundantly and gathered daily. Wild salmon, Spring lamb, Bannow Bay oysters, Wexford mussels and beef all feature very strongly on the exquisite fine dining menu. Marlfield House is a popular fine dining restaurant in Gorey, Wexford  – ideal for any occasion, albeit a delicious wholesome dinner, a light snack, Sunday lunch or to relax with a glass of wine.
The House Conservatory Restaurant
Experience One Of The Most Exquisite Restaurants in Gorey
The fine dining cuisine at Marlfield House restaurant in Gorey Wexford is best described as classical with French and Mediterranean influence. Experience fine dining in our flower filled Turner style conservatory that overlooks the garden. The frescoed walls and sparking silver is a truly memorable experience that makes The Restaurant one of the best places to eat in Gorey. The impeccable quality and ambiance of this Gorey Restaurant in County Wexford consistently earns Marlfield House its place among Ireland's finest dining experiences.
The Duck Terrace Restaurant, Café  & Bar
A unique relaxed dining experience enjoyed by friends and family
The Duck is a terrace restaurant, café & bar in the restored courtyard buildings including a coach house, potting shed and gardener's tool shed situated on the grounds of Marlfield House just outside Gorey. The restaurant is located in a long stone building with French doors opening onto a sandstone terrace overlooking the kitchen garden filled with vegetables, soft fruits, a plethora of herbs and beds of blooming roses! Reservations are advisable to avoid disappointment.
The Cellars at Marlfield House Hotel
Accentuate Fine Dining With A Glass of Wine
The Cellars at The Marlfield Hotel in Wexford offer an extensive list of wonderful wines from all over the world. Wines are available for very special occasions to our personally selected house wine Marlfield prides itself on its cellars. Whatever the occasion and your choice of food we will be delighted to help you make exactly the right choice. If you are looking for places to eat in Gorey, don't forget to place emphasize on the quality of wine provided that is available at Marlfield House.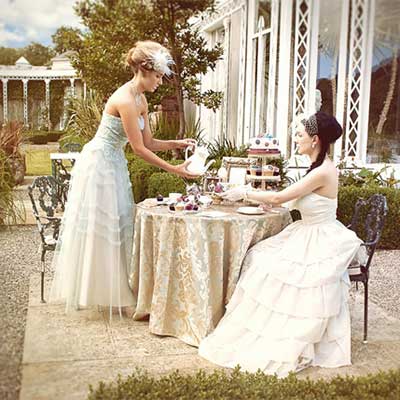 Afternoon Tea at Marlfield House
The most lavish Afternoon Tea in Wexford
The elegant and gracious surroundings of Marlfield House lends itself to relaxing over our delicious afternoon tea. Sit back and be pampered with crisp white linen, bone china and gleaming silverware in the surroundings of the drawing room or on the terrace overlooking the gardens.
What is better than a delicious scone and tea while relaxing in the gardens in the afternoon. The experience of Afternoon Tea at Marlfield is unique – stunning gardens, quality home baked scones with Wexford butter and delicious sandwiches to compliment your perfect day. It's a wonderful way to celebrate a special birthday or anniversary with friends!