Awards
Marlfield House has been recognized as one of the leading small and luxury hotels in Ireland receiving multiple awards and accolades throughout the years.
The Duck Restaurant at Marlfield House wins Georgina Campbell's Atmospheric Restaurant of the Year Award
Irish diners place a high premium on atmosphere – often rating it even above the quality of food when choosing where to eat out – but this restaurant, although certainly atmospheric, has much more to it than that.
Some really lovely restored buildings beside Marlfield House took on a new lease of life in 2015, when a series of disused areas – including a coach house, potting shed and gardener's tool shed – were very attractively developed by Margaret and Laura Bowe to create a stylishly informal restaurant and café-bar, named 'The Duck' after their mother Mary's fondness for the ducks in their garden. With a large terrace overlooking the fine kitchen gardens that have for many years inspired proudly seasonal menus in the main house (as they still do), diners at the new restaurant can enjoy them in a very up close and personal way, as the terrace is right alongside the kitchen garden – which, in summer, is a wonderfully lush mixture of herbs, vegetables, fruit and rose blooms.
It's a magic spot, especially on a fine day – and, although it may be a more obvious choice in summer, this relaxed restaurant is an atmospheric all-year destination and there's always a cheering open fire to make it a cosy place to enjoy the good modern, broadly Italian, cooking in the colder months. A charming restaurant, and an instant success from day one – it's easy to see why.
Awards and Accolades
Irish Hospitality Awards 2017: Finalist
Georgina Campbell's Ireland Guide: Atmospheric Restaurant of the Year 2017 (The Duck)
The Good Hotel Guide: Editor's Choice Country House Hotel 2017
The Duck Restaurant: Michelin Guide 2017
TripAdvisor: Marlfield House – Travellers' Choice 2017
Bord Bia: The Duck – Just Ask Restaurant of the Month October 2016
South East Radio Hospitality Awards: Best Boutique Hotel 2016
TripAdvisor: Certificate of Excellence 2016
Food & Wine Magazine: The Duck – Hall Of Fame Award 2016
TripAdvisor: Certificate of Excellence 2015
Restaurant Association of Ireland: Best Hotel Restaurant in Wexford 2015
TripAdvisor: Certificate of Excellence 2014
The Sunday Times: Ultimate 100 Hotels in British Isles 2014
Restaurant Association of Ireland: Best Customer Service Restaurant in Leinster  2014
Restaurant Association of Ireland: Best Customer Service Restaurant in Wexford 2011, 2012 & 2014
Good Eating Awards: Best Front of House 2012
Georgina Campbell's Ireland Guide Country House of Year 2011.
AA Courtesy and Care Award 2010
International Hospitality Award 2003
Andrew Harpers Hideaway Report: Best 25 Hotels in the World
Condé Nast Johansen's Best Country House Hotel 1997
The Good Hotel Guide Cesar Award 1996
RAC Gold Ribbon Award for Excellence 1999 to 2004
RAC Blue Ribbon Award for Excellence 1992 – 1998
AA Three Red Stars and Three Red Rosettes 1981 to 2004
Michelin Guide Red M 1980-1996
Egon Ronay Hostess of the Year Award 1995
Johansen's Best Country House Award 1993
Murphy's Irish Stout Ambassador of Tourism Awards 1993
Graham's Port Wine List of the Year 1991
Relais & Chateaux World Wide Best Breakfast Award 1990
Hideaway Report, One of the World's Most Enchanting Hidaways 1986 & 1990
Bord Failte National Garden Awards 1983-1986
Wedgwood Top 50 Hotels Award 1984
Bord Failte Restaurant Award for Excellence 1982-1994
Memberships and Associations
Relais and Chateaux
Relais & Châteaux is an exclusive collection of 475 of the finest hotels and gourmet restaurants in 55 countries.
Established in France in 1954, the Association's mission is to spread its unique art de vivre across the globe by selecting outstanding properties with a truly unique character.
Furthermore, Relais & Châteaux is also a family of hoteliers and Grands Chefs from all over the world who share a passion for and a personal commitment to ensuring their guests are privy to moments of exceptional harmony. To choose Relais & Châteaux is to experience an unforgettable celebration of the senses.
From the vineyards in Napa valley to the beaches in Bali, from the olive trees in Provence to the lodges in South Africa, Relais & Châteaux offers a chance to explore the Route du Bonheur and discover a special place in a variety of destinations.
The Relais & Châteaux signature reflects this ambition: "ALL AROUND THE WORLD, UNIQUE IN THE WORLD."
Ireland's Blue Book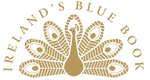 Ireland's Blue Book represents the finest of Ireland's hospitality, accommodation and cuisine. Members are selected on a strict criteria basis with the emphasis being on properties who have a strong individualistic style and character and who are not members of hotel chains. Each property is different in style, setting, ambience and atmosphere. In an age of increasing uniformity this is indeed unique. The uniqueness of the properties is further enhanced by the development in innovative cuisine which draws heavily on the provision of local fresh and organic produce.